Palatka, FL Pawnbroker
Palatka Pawn
Palatka Pawn is a trusted pawnbroker in the Palatka, FL area. For fast cash, bring your unused items to our friendly staff! We provide loans on gold, electronics, jewelry and other valuable items. Our pawn shop has the finest jewelry. Get cash quick!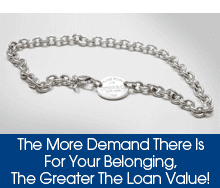 Pawn or sell high-demand items like:

Gold jewelry and watches
Sterling silver and scrap gold
Guitars, laptops, and MP3 players
Electronics, digital cameras, and flat-screen TVs
Game systems and games
Blackberry, iPod, and iPhone
Guns / firearms
If you would prefer, we would also be happy to buy your items outright!
Contact Palatka Pawn today at 386-325-1999 or visit our location.
Methods of Payment: